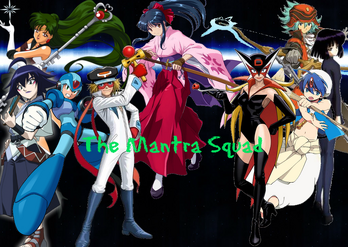 The Mantra Squad 
is a short-story series created by Bolt. It  is comedy and action/adventure. It revolves around a group of nine high school students on summer break who have discovered an ancient artifact that turns them into evil-fighting powered up superheroes that defend their hometown from aliens.
Characters
Edit
The Mantra Squad
Chin Hikari - A sophmore who is also the 

leader of the gang. He represents the 6th seal, Chin and is known as 

Chatterman

.

Kai Rokku - A freshman who is the main technician of the squad. He represents the 5th seal, Kai and is known as BluRay.
Retsu Yami - A junior who is the strategist and planmaker. She represents the 7th seal, Retsu and is known as Black Gem
Rin Sakura - A freshman and Shinto priestess  who serves as one of the offensive members. She represents the 1st seal, Rin and is known as Mikohana.
Sha Kaze - A freshman and an Egyptian foreign exchange student. He serves as the "little rascal". He is the youngest and represents the 4th seal, Sha. He is known as Sir Isis.
Tou Kyojin - A senior who is the "oracle" of the group. Se represents the 3rd seal, Tou. She is the oldest and is known as Pluto.
Zai Dakku - A freshmen who is Sha's age and a main offensive member. She represents the 8th seal. She is known as Glaive Girl
Zen Hakai - Zai's "brother" whom their family took in. He is a sophmore and an offensive member. He represents the 9th seal. He is known as Fanboy.
Pyou Kage - A junior and the only defensive/offensive member. He represents the 2nd seal, Pyou and is known as Nanoarch.
Antagonists 
Edit
Big Bad Circus Pack

Bara - The second oldest yet most immature sister. She specializes in ball-related attacks and is the ball walker in the circus.
Tris - The next to youngest sister and the most hardcore with a rough personality. She is the main acrobat of the circus.
Charmers of Bad Behavior
Edit
Ad blocker interference detected!
Wikia is a free-to-use site that makes money from advertising. We have a modified experience for viewers using ad blockers

Wikia is not accessible if you've made further modifications. Remove the custom ad blocker rule(s) and the page will load as expected.