Phosphora
Edit

Description
Edit
Phosphora is one of the commanders of the Forces of Nature in Kid Icarus: Uprising. She can control electricity and can use it as an advantage against her foes.
Doctor Pikachu
Edit

Description
Edit
A world-renowned doctor, Doctor Pikachu can solve almost any medical problem.
The Grim Reaper
Edit
Description
Edit
The Grim Reaper is the carrier of the dead and brings dead souls to King Yemma, who decides whether they go to Heaven or Hell.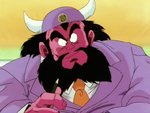 Description
Edit
King Yemma is the guardian of the afterlife and decides whether dead souls go to Heaven or Hell based on events in their lives. He's nicknamed "Yemman Squeezy" by Wolf.
Description
Edit
Kim is a 16 year-old girl who lives on the planet Xerophia and is Wolf's ex-girlfriend.
Flight
Grants wishes
Infinite life
Description
Edit
Shenron is the magical dragon that resides in the seven Dragon Balls. When all seven are gathered, Shenron grants that person three wishes (Two if one of the wishes was used to revive someone).
Queen of the Universe
Edit
Description
Edit
The Queen of the Universe is just as her title says. She is the secret ruler of the universe our version of the Milky Way Galaxy inhabits. All beings like Shenron and Yemma answer directly to her.
Ad blocker interference detected!
Wikia is a free-to-use site that makes money from advertising. We have a modified experience for viewers using ad blockers

Wikia is not accessible if you've made further modifications. Remove the custom ad blocker rule(s) and the page will load as expected.