Myujikaku is the main antagonist 3B Junior: Stardust Adventure.
 Myujikaku is the only antagonist of the story. He has the ability to possess people, manipulate darkness, mind control people, and split into various forms. His whole form has never been seen but he usually spends his time in two different forms, a male and a female form. His female form is known as Yamisa who takes the form of a demon queen, and Akuma Inu who takes the form of a dog-like demon warrior.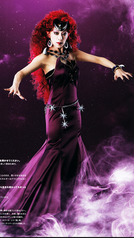 It's name is the combination of the romanized katakana form of music (Myujiku) and regular romaji for  demon (Akuma)
Ad blocker interference detected!
Wikia is a free-to-use site that makes money from advertising. We have a modified experience for viewers using ad blockers

Wikia is not accessible if you've made further modifications. Remove the custom ad blocker rule(s) and the page will load as expected.