Momoiro Clover Z 
is 3B Junior team in
3B Junior: Stardust Adventure
. The most popular and powerful 3B Junior band.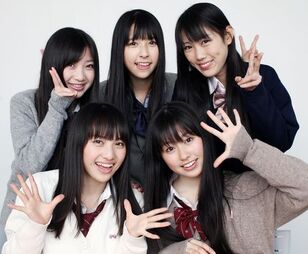 It consists of 5 people. They are commonly referred to as the weekend heroines. Their Power Song is Z Densetsu: Owarinaki Kakumei. It was formerly a 6 member band until Akari Hayami whose color was blue, graduated.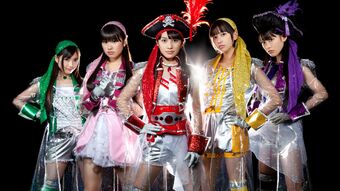 Kanako Momota - The strongest Momoclo member as well as the leader. Her power is fire and her image color is red. Kanako's 3B Idol form is known as Faiārozū (Fire Rose). She is known for being very passionate and fierce. 
Shiori Tamai - The second strongest of Momoclo. She harnesses the power of light and her 3B Idol form is called Raītogāru (Light Girl). She is very kind and cheery all the time. Her image color is yellow.
Ayaka Sasaki - The youngest member, she is most commonly known as Ārin. Her image color is pink and she has the ability of love manipulation. Her 3B Idol form is named Byūtīshīā (Beauty Sheer). She is very outgoing and sometimes rash, still being quite young.
Momoka Ariyasu - The people's favorite, she is almost as strong as Shiori. Her image color is green and her power is plant control. Her 3B Idol form is known as Puranto-Taitanū (Plant Titan). She is a little tomboyish and an outdoors person.
Reni Takagi - The former leader of Momoclo. She is one of the most popular 3B Junior girls. She bears the image color purple with her power associated with the moon. She has yet to access her 3B Idol form which was already named as Tsukiwandā (Moon Wonder).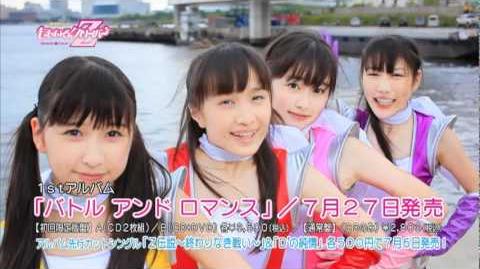 Ad blocker interference detected!
Wikia is a free-to-use site that makes money from advertising. We have a modified experience for viewers using ad blockers

Wikia is not accessible if you've made further modifications. Remove the custom ad blocker rule(s) and the page will load as expected.