hafid and his friends did some further creative brainstorming and came to the idea to start a band or a tv series, called "two and a hafid men" or "how i met your smartphone". it's a tough choice. do you have any ideas to help them?
uh I can explain
Edit
Zie: (busts through door)
Balista: (playing with my little ponies) uh, I can explain
Zie: Didn't we just put that for that section thing?
Balista: enjoy it while it lasts dude, only one more episode till the season 2 finale.
Zie: dude next episode is the series finale.
Balista:

HOW COULD YOU?
Zie: Don't worry there will be 52 episodes.

Balista:

Drags: Balista! Big news!
Balista: What?
Drags: Anne Sweeney was fired! The person who ruined Disney Channel with these stupid tween shows!
Balista: Finally

Anne Sweeney: I WILL GET YOU RAVEN AND YOUR LITTLE CORY TOO
Raven: Ya nasty.
Leoness: no more of the awesome new disney channel shows today?

Falco: Fak you, those shows suck
Falco: Cept Gravity Falls.
Balista: and craig mccrackens nue shoe
Leoness: He has a shoe?
Balista:

I meant show.
Leoness: oh.
Mexican Drago: Ding Do- (gets blast off)
Balista: This new doorbell bishslapper was the best thing I ever made.
Zie: GAIS! WE HAS MAIL!
Balista: yay
Zie: WE'RE MOVING!
Everyone else: WUT... WHY
Zie: because it is filled with Cookies!
Drags: Finally... now I can finally have a chocolate shower.
Falco: I already have everything packed..
Zie: Wow, what did you pack?
Falco: my eggs.
Balista: I KNEW IT! YOU WERE A CHICKEN AND A FEMALE AFTER ALL!
Falco: ... go froakie yourself, I just like scrambled eggs man.
---
(Several days later)
Zie: here we are at our epic new house.
Balista: Thank you for taking our bags butlerlista
Butlerlista: No problem sir.
Grandma: MOIST COOKIES.
Balista:

GTFO GRANDMA! WE ALREADY BEAT GROVER AND WE HATE YOU!
Grandma: ...Call me.
Leoness: okay :D
Drags: go back to ruling cookie clicker grandma (kicks grandma out)
Falco: owww guys my wings hurt (shows buffalos with wings)
Drags: Buffalo wings? I see what you did there.
Balista: don't worry I'm a doctor!
Leoness: Since when?
Balista: well, FLASHBACK TIME!
---
(flashback starts)
Fatherlista: Dude you must become a doctor.
Balista: mmk.
(becomes a doctor)
Balista: uh, how do I know if someones sick? Or atleast, how do doctors who became doctors because their parents told them know how to find whoever is sick?
Doctor 1: Are you sick?
Doctor 2: No.
Doctor 3: Are you sick?
Balista:

SammyClassicSonicFan: Are you FRICK?
Balista: wait how'd you get in this flashback
Doctors: Are you sick? Are you sick?
(flashback end)
---
Balista: and that my friends is what happens if you listen to your parents and become a doctor, well, for me.
Drags: o.o
Falco: nvm the wings are fine
Cow: MOOOOOOOOO
Leoness: SHUT THE DRAGO UP, COW.
Cow: POOOOOOOOOOO
Zie: For the last time, we don't have cow toilets.
(magical cow pops in the house)
Magical Cow: Dairy World?
Zie: Fairy World.
Magical Cow: Hairy World then?
Zie: Nope, Jerry World
Magical Cow: THE BASED GOD?
Zie: Yup.
Magical Cow: Wait is this Garry World?
Zie: (facepalm) No, this is Larry World, you're living like larry here.
Magical Cow: Darnit. (leaves)
---
Falco: MOOOOOOOOOOO
Leoness: Huh?
Drags: Did you drink the weird milk?
Falco: MOOOOOOOOOOOO
Balista: THAT MILK IS POISON!
Anne Sweeney: Indeed.
Balista: SWEENEY. You will die
Anne Sweeney: YOU GOT ME FIRED FROM DISNEY AND DISNEY CHANNEL, SO I'M GETTING BACK AT YOU GUYS BY KEEPING YOU HERE IN MOOLIFORNIAPANADA!
Zie: YOU WON'T WIN! (throws grenade)
Anne Sweeney: MILEY CYRUS! I CHOOSE YOU!!!
Zie:
I'm sick and tired of you... YOUR DEAD TO ME.
Balista: ITS ON.............:3.........
---
Brock: THE BATTLE WILL BEGIN WITH ZIE VS ANNE SWEENEY! ONLY 3 POKEDIGIBAKUREDAKAI2GOSUNOBLADEDAMANS ALLOWED!
Balista: SHADDUP BROCK, ASH LEFT YOU!
Brock: I'm returning in one Best Wishes episode though :(
Balista: BALISTA! I CHOOSE YOU! I mean, BALISTA! I CHOOSE MYSELF!
Zie: (must have wrote that part qrong, i mean wrong) Balista, no, thats me who chooses you, so... BALISTA! I CHOOSE YOU!
Anne Sweeney: YOU CAN'T CHOOSE A BAKUGAN! Pfft, whatever, DEMI LOVATO! I CHOOSE YOU!
Demi Lovato: Frick this, I'm done, I'm so done (leaves battle)
Brock: Uh, Sweeney's pokemon fainted or something... now she only has 2! Zie is in the lead!
Balista: HA!
Anne Sweeney: Fine then... COWGRANDMA, I CHOOSE YOU!
Cow Grandma: MOOOOOOOOOOOOOOOOOOOOOOOOOOOOOOOOOOOOOOOIST MOOOOOKIES!!!!
Balista: Crap, you again.
Balista: SCREW YOU I'M BALISTA! (kicks Grandma)
Cow Grandma: ...Moo me. (explodes and hurts balista and also faints)
Zie: Balista! Return, I'll save you for later.
Zie: FALCO! I CHOOSE YOU!
Anne Sweeney: I HAVE MY ULTIMATE WEAPON THOUGH....
Zie: No... It can't be true... I can fly if I wanted too
Anne Sweeney: MILEY CYRUS! I CHOOSE YOU!
Zie:

Zie: Well.... FALCO USE CHICKEN DANCE!
Falco: ...fine (dances)
Anne Sweeney: MILEY... use SING!
Miley Cyrus: (sings best of both worlds)
Zie: OH GOD THAT SINGING IS TERRIBLE
Falco: ...crapco (faints)
Zie: Okay... Balista, YOUR ON!
Balista: Are you kidding me? SHE TWERKS? THAT BEAST, I'M GOING HAN SOLO!
Zie: ._. good luck getting frozen/captured by jabba then.
Silver: ITS NO USE!
Zie: SHADDUP SILVER, go drink some juice with gus, who still didn't know that earth has juice in boxes!
Silver: ITS NO JUICE!
Zie: THE ONLY POKEMON I HAVE LEFT IS.....
Zie: SAMMYCLASSICSONICFAN!!!!!
(meanwhile at Masahiro Sakurai's Sora company headquarters)
Sakurai: WE NEED A NEW ORIGINAL CHARACTER FOR SSB4!
Random worker: huw bout goku
Sakurai:
(throws worker out of window)
Sakurai: I've got it!
Yzma: ...my line.
Sakurai: Here's our new character!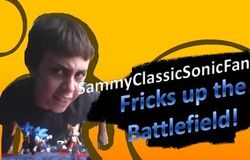 SAMMYCLASSICSONICFAN!
Obama: I would give that guy 10 dollars!
(back with Zie)
Anne Sweeney: MILEY! USE YOUR ULTIMATE MOVE... TWERK!
Miley Cyrus: k.
(move fails)
Anne Sweeney: (looks at disneydex) NOT ANOTHER 30 PERCENT ACCURACY ONE HIT KO MOVE!
Zie: NOW SAMMY, USE FRICK!
SammyClassicSonicFan: FRRRRR....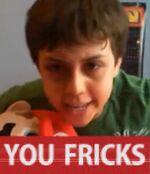 Miley Cyrus: (faints)
Zie: I won! :D
Balista: yus! Sweeney is beat!
Brock: ZIE WINS! Now back to meh gym.
Anne Sweeney: DANG! Well... what to do now...
Hafid: (steals Sweeneys iphone)
Anne Sweeney: my phone! (explodes due to sadness)
Hafid: I STOLE A PHONE :O
Hafid: I gotta write a letter, heres what a wrote.
Hafid: Hafid here. I am so sorry that you assumed I had stolen your phone. I found it in the street and god willing should be able to return it to you. Please send me your address and I will have it couriered to you with one of my lovely creations. Hafid xx
Real Hafid: what!? I am hafid. no i am not returning :D
Patrick: no this is patrick
Hafid 3: no, I am hafid and I ate the phone
Hafid 4: wrong, I am hafid and i dropped the phone from the empire state building and then the eifel tower.
Hafid 5: I am hafid and so is my wife!
Drags: no, shaddup to you all (destroys all hafids)
Balista: Okay guys lets go back home.
Zie: right.
---
Narrator: and so Zie and Balista and the others returned to their home, and Moolifornia or whatever it is called was taken over by the Elders and it is now called "Grandmopolis" Also, something else happened in the Fanonlords Headquarters.
Narrator: Icefern bought CC's Pizza!
Mike Shumsky: thanks for the money, the places are all yours.
Icefern: Thanks ._.
Icefern: Mkay Warrior Cats, your the new workers.
Cats: :D
Icefern: EXCEPT YOU POPCORN, GTFO. GET BACK IN ZIE'S STOMAC - wait what did I just say?
Popcorn: :(
Cat 1: stand back I'm cutting the cheese (cat fart)
Cat 2: ._.
Zie: hey can I order some Pizza
(1 hour later)
Zie: HURRY UP GARFIELDS I'VE BEEN WAITING FOREVER FOR MY LASANGNA!!!
Popcorn: (snickers)
(end of episode)
Ad blocker interference detected!
Wikia is a free-to-use site that makes money from advertising. We have a modified experience for viewers using ad blockers

Wikia is not accessible if you've made further modifications. Remove the custom ad blocker rule(s) and the page will load as expected.